When you\'re building a gaming PC, finding a cheap graphics card deal can make or break your budget. Big graphics card price drops don\'t happen all that often, and when they do, it\'s usually because something shiny and new is coming out. And when there is a rare cheap graphics card deal, it may sell out quickly. We know the graphics card can easily be the most expensive component in your PC, which is why we\'re keeping our eye out for the best deals we can find every week.
The money you save with a cheap but powerful graphics card can go towards a the best CPU instead, or an awesome gaming keyboard and mouse. Or you can splurge on a higher-end GPU than you\'d planned on by finding a deal that cuts its price down a notch.
If you\'re not quite sure what kind of graphics card you want, before surveying the cheap graphics card deals below, consult our GPU hierarchy and guide to the best graphics cards for PC gaming.

MSI GeForce RTX 2060 VENTUS XS OC 6GB | $325 (save $15)
The RTX 2060 is a great graphics card for 1440p gaming, and it can even handle ray tracing in some titles. This model from MSI is $15 off when you enter code EMCDMDR37 at checkout. (Posted: 6/10)View Deal
ASRock Phantom Radeon RX 5500 XT 8GB | $200 (save $20)
The Radeon RX 500 XT is an excellent card for 1080p gaming, and this custom dual-fan model from ASRock is now $20 off the usual price. You can also save $20 more by mailing in the rebate after purchase. (Posted: 6/10)View Deal
ASRock Radeon RX 5700 XT TAICHI | $430 (save $55)
This high-end RX 5700 XT graphics card from ASRock is $55 off the typical price. If you want to deal with the mail-in rebate, you could potentially save another $20 on top of that. (Posted: 6/10)View Deal
Today\'s cheapest prices on all the best graphics cards:MSI Computer GTX 1060 3GT OC…Nvidia GeForce GTX 1060Amazon$299.77ViewSee all pricesRecommendedEVGA GeForce 08G-P4-5173-KR,…Nvidia GeForce GTX 1070Amazon$574.99ViewSee all pricesMSI Gaming GeForce GTX 1070…Nvidia GeForce GTX 1070 TiAmazon$589.99ViewSee all pricesEVGA GeForce RTX 2060 XC…Nvidia GeForce RTX 2060BHPhoto$319.99ViewSee all pricesMSI GeForce RTX 2070 DirectX…Nvidia GeForce RTX 2070Newegg$439.99ViewSee all pricesEVGA 08G-P4-3081-KR, GeForce…EVGA GeForce RTX 2080 8GBAmazon$719.99ViewSee all pricesPNY VCG2080T11BLMPB GeForce…Nvidia GeForce RTX 2080 TiAmazon$1,196.99ViewSee all pricesXFX Radeon RX 560 1295MHz,4gb…AMD Radeon RX 560 4GBAmazon$119.99ViewSee all pricesXFX RX 570 4GB GDDR5 RS XXX…AMD Radeon RX 570Amazon$129.99ViewSee all pricesXFX Radeon RX 580 GTS XXX…Radeon RX 580 8GBAmazon$169.99ViewSee all pricesWe check over 130 million products every day for the best pricesView All Deals

1. Nvidia GeForce RTX 2080 Ti
The best graphics card in 2019
GPU Cores: 4,352 | Base Clock: 1,350MHz | Boost Clock: 1,545MHz | GFLOPS: 13,448 | Memory: 11GB GDDR6 | Memory Clock: 14 GT/s | Memory Bandwidth: 616GB/s
$1,189View at Adorama$1,196.99View at Amazon$1,199View at NVIDIASee all prices (13 found)436 Amazon customer reviews☆☆☆☆☆
Fastest graphics card aroundRay tracing and deep learning techMore developers moving to embrace ray tracingExtravagantly priced2080 Super has closed the power gap
Nvidia\'s GeForce RTX 2080 Ti is the latest and most potent GPU around, and it\'s also one of the largest consumer GPUs ever produced. The Turing TU102 is 60 percent larger than the Pascal GP102 in the 1080 Ti, with 55 percent more transistors. Those extra transistors went into more CUDA cores, but Nvidia didn\'t stop there, adding in Tensor cores to help accelerate deep learning algorithms like DLSS, plus RT cores to accelerate ray tracing.
There are plenty of other enhancements in the Turing architecture as well, but if you want the best, be prepared to shell out: the cheapest 2080 Ti cards start at $999, with many selling for $1,199 and up. Technically there\'s also the Titan RTX, which more than doubles the price of the 2080 Ti, but it\'s more of a prosumer card that anything we\'d recommend for pure gaming purposes.
If you\'re looking for the best value, forget about the new RTX cards. On the other hand, if you\'re eyeing a 4k 144Hz HDR G-Sync display and you want the absolute fastest graphics card around, this is the card for you. You could even try adding a second card and using an NVLink connector, assuming you just won the lottery. (Note that the current ray tracing enabled games do not support multi-GPU with DXR (DirectX Raytracing) enabled, so we don\'t recommend this!) We\'re unlikely to see anything substantially faster for at least a year, so you\'ll be able to sit comfortably at the top of the pecking order for a while.
The biggest issue with DXR and RTX hardware right now is that lack of games, although this problem is getting less and less significant. There were a few major games when these cards first launched (Battlefield 5, Assetto Corsa Competezione, Metro Exodus, and Shadow of the Tomb Raider), plus a few tech demos (Quake 2 with RT) and some overseas titles (Justice). But with Unreal Engine and Unity both supporting DXR, we should start seeing more ray tracing games later this year, and early next – Cyberpunk 2077 and the Call of Duty reboot have already announced they\'ll support ray tracing, with Control, Wolfenstein: Youngblood, recently adding it for their launches.
2. AMD Radeon RX 570 4GB
The best graphics card for 1080p on a budget
GPU Cores: 2,048 | Base Clock: 1,168MHz | Boost Clock: 1,244MHz | GFLOPS: 5,095 | Memory: 4GB GDDR5 | Memory Clock: 7 GT/s | Memory Bandwidth: 224GB/s
Prime$129.99View at Amazon$129.99View at Newegg$149.99View at BHPhotoSee all prices (17 found)706 Amazon customer reviews☆☆☆☆☆
Good for 1080p gamingOften faster in DX12\'Budget\' pricingUses more power than GTX 1660/1060Only 4GB VRAM
While nowhere near the top of our list for power, this is a superb value pick if you\'re looking for performance on a budget. AMD\'s Polaris architecture has been around a few years, and while it\'s beginning to show its age, it\'s also significantly cheaper now than when it launched. It\'s an excellent card to tackle the current 1080p era of gaming, and if you\'re still leaning on integrated graphics or an older card, it\'s a cheap upgrade. 
Overall, the RX 570 4GB typically comes out slightly ahead of the GTX 1650 4GB. It does draw more power than Nvidia\'s Turing-in-a-GTX-shell 16-series of cards and the 1060, but it can also regularly be had for $30-40 less than either of Nvidia\'s closer competitors.
Most desktops are more than capable of running this 150W card without any difficulty, though you\'ll need at least a 6-pin power connector, or possibly an 8-pin connector. Sales routinely drop the price of RX 570 4GB cards to $110-$120, so as long as your PSU is up to snuff, the RX 570 pretty much kills off the market for anything lower. If you\'re building a budget PC or upgrading from an older, outdated GPU, the RX 570 is a great starting point.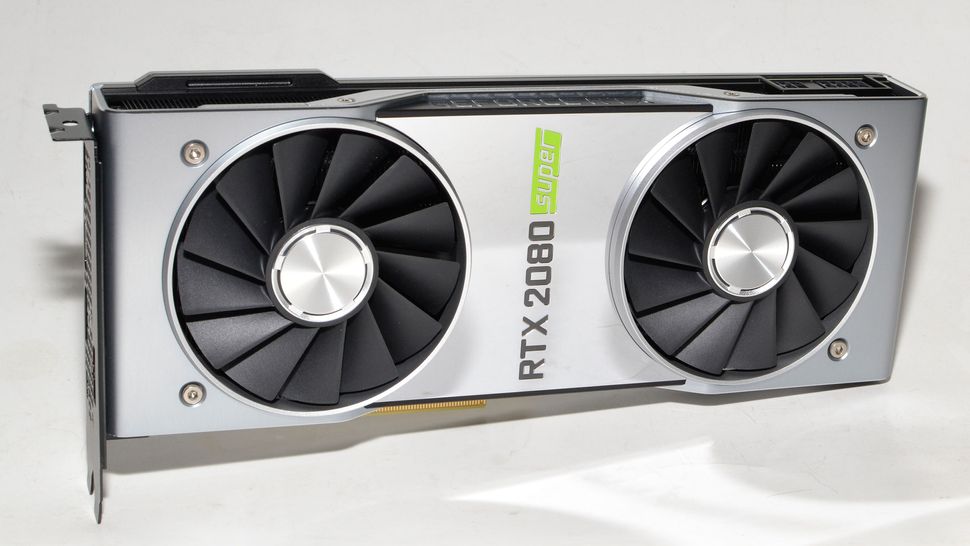 3. Nvidia GeForce RTX 2080 Super
The best graphics card for 4K at a (fairly) reasonable price
GPU Cores: 3,072 | Base Clock: 1,650MHz | Boost Clock: 1,815MHz | GFLOPS: 11,151 | Memory: 8GB GDDR6 | Memory Clock: 15.5 GT/s | Memory Bandwidth: 496GB/s
Prime$719.99View at Amazon$719.99View at Newegg$839.99
View at Dell
See all prices (24 found)19 Amazon customer reviews☆☆☆☆☆
Fantastic 1440p performance and respectable 4KRay tracing and deep learningFastest GDDR6 clocks availableNo groundbreaking new featureOnly slightly outperforms the vanilla 2080
Sure, the RTX 2080 Ti is the fastest graphics card and has all sorts of cool and potentially useful features, but at the current prices it\'s a tough pill to swallow. Dropping down to the brand new RTX 2080 Super will get you still excellent performance—it\'s the second fastest consumer GPU, edging out the base 2080 and GTX 1080 Ti—and save you a bunch of cash, as the Founder\'s Edition retails for $700. And you still get the same ray tracing and deep learning (eg, DLSS) features, albeit not quite as many of each core type (though still more than the vanilla 2080).
The one major caveat right now is that we\'re still waiting for more universal adoption of ray tracing and DLSS. We\'ve got Battlefield 5, Metro Exodus, Shadow of the Tomb Raider, and Control (with unreleased games like Cyberpunk 2077 and the Call of Duty reboot recently climbing on the bandwagon). The RTX 2080 Super can run all of those games with ray tracing, though if you\'re looking for 4K Ultra and 60FPS the Super isn\'t quite there. That said, it can deliver very playable frame rates in the vast majority of triple-A titles at 4K, though on the extreme end you may need to tweak some settings down (Metro Exodus for instance, with its taxing global illumination ray tracing, is a strain). Even with a $700 GPU, 1440p typically works best at slightly reduced ray tracing quality mode and with DLSS enabled.
4. Nvidia GeForce RTX 2070 Super
The best graphics card for solid 4K RTX performance and price
GPU Cores: 2,560 | Base Clock: 1,605MHz | Boost Clock: 1,770MHz | GFLOPS: 9,062 | Memory: 8GB GDDR6 | Memory Clock: 14 GT/s | Memory Bandwidth: 448GB/s
$499View at NVIDIAPrime$624.69View at Amazon$669.99View at AmazonSee all prices (6 found)
Performance close to a 2080Same starting price as the base 2070 (no FE premium)Handles 4K at high/medium settings admirablyAs with the 2060, a very iterative release
The ray tracing future may sound great, but what if you can\'t afford $700 or more on a graphics card? That\'s where Nvidia\'s RTX 2070 Super enters the picture, the middle option of the new lineup (with the 2080 Super launching on July 23rd). The 2070 Super retails at $499, the same price as the vanilla 2070 at launch, and offers a substantial performance improvement. That\'s still a lot of money for a graphics card, and the 2070 is only about tied with the previous generation 1080 Ti (see below), at least in games that don\'t support DLSS—which is still most games.
The RTX 2070 Super moves to the TU104 chip from the base version\'s TU106, enables more cores, and increases clockspeeds. The performance bump is pretty predictable but also very welcome when it doesn\'t come with an increase in price. As a play to stay ahead of AMD\'s RX 5700 and 5700 XT launch, it\'s very convincing, though as a new product stack it\'s not earth-shaking.
The 2070 Super can attack triple-A games at 4K if you\'re willing to turn down graphics settings to medium or high, and it does an excellent job of pushing more than 60 FPS at QHD. Needless to say, if you\'re got an incredibly high refresh monitor or TV, you can squeeze some very high rates out at 1080p Ultra. The 2070 Super may not be a revolution, but it\'s an excellent card at a very convincing price.
5. Nvidia GeForce RTX 2060 Super
The best graphics card for 1440p and 144hz FHD performance
GPU Cores: 2,176 | Base Clock: 1,470MHz | Boost Clock: 1,650MHz | GFLOPS: 7,181 | Memory: 8GB GDDR6 | Memory Clock: 14 GT/s | Memory Bandwidth: 448GB/s
No price informationCheck AmazonSee all prices (1 found)75 Amazon customer reviews☆☆☆☆☆
Great for 1080p and 1440p gamingAffordably priced RTX featuresEffectively replaces the 2070 for $100 lessExtremely iterative
The best graphics card isn\'t simply the fastest graphics card, or the cheapest graphics card. Instead, the best graphics card needs to balance performance, price, and features. There are many great graphics cards, but for a great GPU that won\'t break the bank, Nvidia\'s RTX 2060 Super is probably the best option. It delivers performance roughly equal to a vanilla RTX 2070 but retails for $100 less.
If you want to play games at 1080p or 1440p on a 144Hz display, the RTX 2060 has the chops to handle most games at close to high to ultra quality. It\'s more powerful than a 1080 but costs less, and is nearly twice as fast as an RX 570. 
For DXR and ray tracing games, 1080p with DLSS often works well, and in a few cases 1440p with DLSS. Don\'t be shy about turning the ray tracing setting down a notch as well, as in most games so far there\'s not much visual difference between ultra and high quality DXR modes.